Although there are several Residential Roofing Systems available for homeowners to choose from, when it comes to selecting a residential roofing system that stands the test of time, the Asphalt Shingle Roof has long been the preferred choice due to its cosmetic appeal, affordability, and durability under harsh conditions.
Asphalt shingles come in different colors and styles including 3 Tab Shingles, Architectural Shingles, and Hip & Ridge Shingles, overall providing more flexibility and benefits than any other roofing material. Furthermore, Asphalt Shingles also possesses an impressive combination of longevity, durability and beauty, which neither concrete tiles or metal can provide.
In addition to these features, Asphalt shingles are cost-efficient and easy to maintain. Let's check out Asphalt Shingle's impressive characteristics, and why they have been the ideal roofing system for a residential building.
Beauty & Aesthetic Appeal
1. Availability of rich, gorgeous colors to choose from
2. A wide selection of textures
3. Huge choice of shingle styles
4. Similar to wood, cedar, or slate
Asphalt Shingle Roof Affordability
1. Most affordable option among Residential Roofing Systems
2. Multiple pricing options
3. Cost-effective
4. Great value for the investment
Performance
1. 100-year proven track record in North America
2. Longevity
3. Perfect weight; not too heavy or too light
4. Fewer leak problems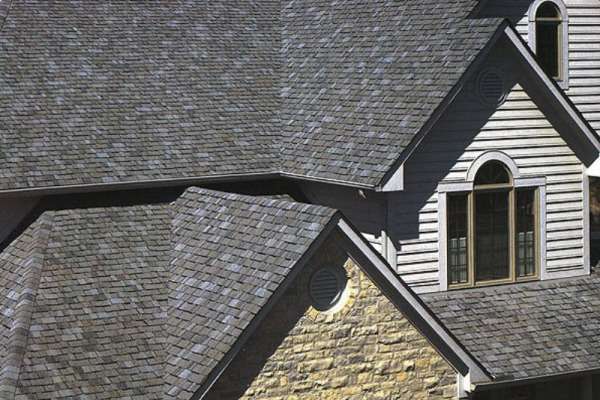 Durability
1. Excellent uplift resistance
2. Excellent fire resistance
Ease of Installation
1. Most Residential Asphalt Shingle Roofs are completed in 1 to 3 Days.
2. Clean up and haul off is a breeze!
Low maintenance
1. No additional structure required to carry weight
2. Minor Repairs are generally fast and simple
3. Material is durable and easily withstands the elements
Eco-Friendly
1. Asphalt Shingles are recyclable at the end of their useful life
2. Recycling services are available in most major metro markets
3. Recycled shingles are widely used in paving, which can reduce cost
4. Most scrap from the production process is recycled
5. Resources are available to find recyclers and contractors who can recycle
Types Of Asphalt Shingles
Just like every other roofing system, asphalt shingles are available in different variations. Glass fiber asphalt shingles are the most popular choice because they are affordable. It comprises of a mat covered with a layer of glass fiber beneath the asphalt. The asphalt is mixed with fillers to adhere easily to the glass fiber. Ceramic granules which are closely placed next to it shields the shingles from heat.
The gravel also provides different styles and colors for the buyers. Another popular type of asphalt shingle is the organic variety. This type has no filler and costs more. They are made of felt coated with asphalt and ceramic granules to make it water-resistant. Although organic shingles are more expensive, they also weigh more because of the greater density and will fare better against the elements compared to other types of asphalt shingles. However, glass fiber asphalt shingles are the preferred choice because they are easier to make, and also cheaper to purchase.
An Asphalt Shingle Roof will last for a very long time on your residential building, needing only minimal maintenance to keep it in shape. It is a cost-effective solution to protect your home from the elements. At MAZE Roofing & Construction, we have decades of experience in the planning, installation, and maintenance of all types of residential roofs.
Our expertise is second to none, and customer satisfaction has been our watchword. Get in touch with us today for a free comprehensive roof evaluation!