Over the years the interest in commercial roof coatings has increased, but very few people have sufficient information about them. As building owners and managers have learned more about the advantages of this particular roofing product, we are starting to see a significant increase in requests for its application.
What Are Commercial Roof Coatings?
Commercial Roof Coatings are designed to improve the performance of your Commercial Roof and also extend its useful life. They can be applied by spraying or rolling directly atop your existing roof surface. This fresh coating shields your building from leaks, all thanks to its monolithic (seamless) structure, flashing capabilities(absence of special features) and self-adhering properties(can be applied without fasteners).
Aside from preventing roof leaks, most commercial roof coatings have reflective properties; this simply means that they don't absorb UV(ultraviolet) rays. Instead, they relay them back into the atmosphere. This keeps your roof surface and buildings interior much cooler, saving you money in the process.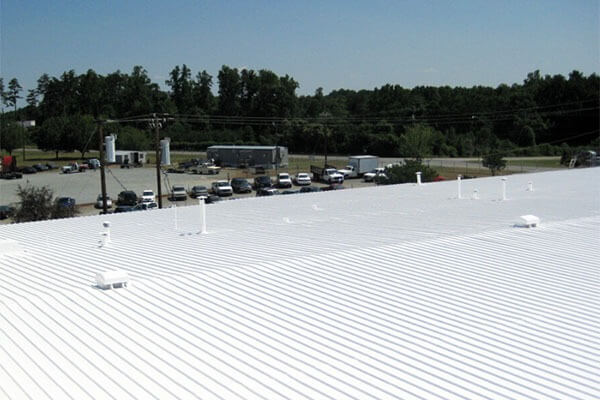 Types Of Commercial Roof Coatings
Commercial roof coatings are readily available in different options, and you can choose from the type that best suits your current roof material. Although some roofing systems require multiple layers of coating, others can be applied directly on the existing surface. A Professional Commercial Roofing Contractor will be able to offer guidance on the availability and most efficient option for your existing commercial roof.
Acrylic Roof Coatings, also known as Elastomeric Coatings, are highly reflective and can help prevent rust. Acrylic coatings are ideal for metal roofing because they can expand and contract with the metal. Furthermore, they are easy to apply with a spray nozzle, making the process quicker and cost-effective.
Rubberized Aluminium Coatings have excellent heat reflection properties, and can absorb impact. Also, its durable and can be used on single-ply roofs, built-up-roofs, spray polyurethane foam and also modified bitumen roofs.
Urethane roof coatings are suitable for high traffic areas because of their durability, flexibility and seamless properties. It can also contract and expand with your roof structure. Furthermore, urethanes resist water pooling, and they can absorb impact better than other roof coating options.
Granules are often added to most roof coating systems to help increase the coating's resistance to impact, and abrasion. It also enhances its safety by creating a slip-free surface. Granules are ideal for commercial buildings with a high volume of roof activity and are also suitable for use on asphalt shingles, single ply roofs and modified bitumen roofs.
Asphalt roof coatings contain solvent to make them thinner, and easier to apply on a roof without needing heavy equipment. It can also be sprayed or brushed as well and works perfectly on membrane roofs, built-up roofs and metal roofs.
Polyureas have different forms. Some have similar properties with urethane, while others are closer to acrylic elastomers. Polyureas provide structural enhancement, corrosion protection and waterproof features. They are also suitable for use on modified bitumen roofs, built-up roofs, metal roofs and single-ply roofs.
Silicone roof coatings are ultra sustainable; they are easy to apply and offer maximum protection from leaks because they are not water-based. A silicone roof coating can last for between 10-15 years, but it's not the best choice for commercial buildings with heavy traffic because it becomes very slippery when wet.
Are you in need of a commercial roof coating for your commercial building? Get in touch with us today for a free estimate!