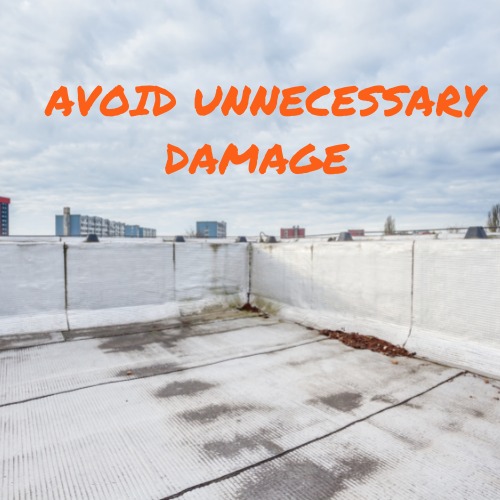 Contractor-Recommended Commercial Roofing Maintenance Tips
Maintain Roof Covers
Remove any debris left behind from storms and inspect for loose or missing materials regularly, and after any roof contractor does work on the roof. If there is any bubbling or peeling that's noticeable, contact your commercial roofing contractor for a professional opinion regarding the need for replacement.
Maintain Roof Drainage Systems
It is best practice to inspect and clean the roofs drainage system a minimum of two times a year, ideally in the Spring and Fall. However, some will need to be inspected more frequently when there is a history of frequent clogging from tree leaves or other debris. If there is a history of clogs from tree leaves, inspect more frequently. When making your biannual inspection, be sure to check for cracks around the roof drains and repair them if there are any.
Check and Repair Loose Perimeter Flashing
During your inspection, look for any loose or missing pieces of flashing and make repairs as required. If you aren't sure what to look for, get with your commercial roofing contractor to learn what each item looks like. Flashing is very important, as it prevents water from coming into the structure, especially during storms or high winds. It is also important to check for loose flashing around any roof hatches, roof-mounted equipment and curbs, as those are vulnerable areas that can cause water leaks where pieces of flashing are missing.
Inspect Skylights
If there are skylights in your building, be sure to add them to the list to inspect twice a year. It is important to looks for any leaks and cracks and address any wood rot. Your commercial roofing contractor can educate you on what to look for and how to maintain these areas.
Roof Hatches
Make sure there are not any loose materials such as screws or other objects that obstruct a good seal of the roof hatch. Also, make sure that it remains closed and locked anytime it's not in use.
Check Satellite Dishes
You want to make sure that any satellite dishes on the roof are secured tightly to the roof at all times.
Inspect AC Units
If there are AC units mounted on the roof, you want to ensure proper inspection of these as well, making sure the units and metals panels are secured to the roof top.
Check gutters for granules
Whether your roof-type is steep-sloped roofs with asphalt shingles, or low-sloped roofs with modified bitumen, or built-up roofs; be sure to check for an remove any granules or pea gravel from the gutters. Accumulation of these materials can cause the slope of the gutter to be shifted and can impact the desired flow of the water.
Re-Check Drainage System
Anytime there is severe weather, as there often is in Dallas, Texas, check your drainage systems again for leaks and everything is still in its proper placement for optimal function.
For more tips or questions on how to properly maintain your commercial roof, contact your locally trusted commercial roofing contractor located in the heart of Dallas, TX. We are always available to answer questions and assist with your commercial roofing needs.
Maze Roofing & Construction
(214) 571-7435
2310 N Henderson Ave, Dallas, TX 75206